At Leola Construction, your go-to frame construction contractor in Gibsonton, FL, we take immense pride in offering top-notch framing services for residential construction projects throughout Orlando, Ocala, Fort Myers, Tampa, and the surrounding areas.
Our team of highly skilled and experienced professionals understands the importance of high-quality frame construction services. With our meticulous attention to detail and industry-leading techniques, rest assured that your residential project is in capable hands. Contact us to learn more!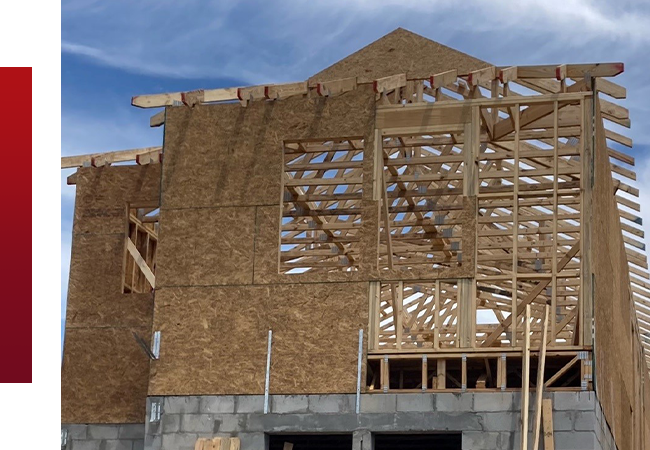 Why Residential Framing Services Matter
Residential framing services play a crucial role in the construction of a home, which is why it's important to choose a reputable construction company like Leola Construction for this service. Framing does the following for a home:
Provides Structural Stability

Creates a Solid Foundation

Adheres to Building Codes and Regulations

Contributes to Long-Term Durability
Our Framing Services
Whether you are planning to build a single-family home, build to rent, or any other residential property, our expert framers are equipped with the necessary expertise and cutting-edge tools to handle projects of any size or complexity. Our framing services include:

Wall Framing
Our team excels in wall framing, which involves the precise assembly of vertical studs, horizontal plates, and other structural members to create a strong and durable framework for a home's walls. We ensure proper alignment, stability, and support for exterior and interior finishes, insulation, and electrical components.

Roof Framing
Leola Construction is well-equipped to handle roof framing for your residential shell construction project. Our experienced professionals skillfully construct and arrange the necessary structural components, including rafters or trusses, ridge boards, ridge beams, and more. We prioritize the integrity and stability of the roof's framework, ensuring long-lasting protection.

Structural Framing
As experts in structural framing, we provide comprehensive services to establish the complete framework or skeleton of your residential shell construction project. This includes wall and roof framing, along with other essential load-bearing elements like columns, beams, and foundations. Our attention to detail and precision ensure a sturdy and reliable structure that meets or exceeds industry standards.
Why Choose Our Framing Shell Construction Services
Our team of experts excels in framing with years of experience under their belts. We use the most advanced methods and tools to properly estimate, construct, and inspect each frame job to ensure it is completed to the highest standard possible. Here are some other compelling reasons to choose Leola Construction for your framing needs:
Expertise

Meticulous Construction

Open Communication

Customer Satisfaction

Timely Completion

Competitive Pricing
When you choose Leola Construction for your framing needs, you can rest assured that you are selecting a team that is dedicated to delivering exceptional craftsmanship and unparalleled customer service.
Get Started Today
If you need expert construction framing services for your Florida project, contact us today to schedule a consultation with our team of experts. Leola Construction is here to help you build a supportive framework that meets your unique needs and vision.